LIGHTSCORES_move like a DJ @ DESIGN AUSTRIA / Int. Design Fair Milan
Premiere of LIGHTSCORES DJ Application:

Interactive DJ Performance live on decks feat. Ken Hayakama
WHEN: Design Austria Party 16th of April 2015, between 7 -9pm
WHERE: at PELOTA / Austrian Design Pioneers, Milan
Location: La Pelota / Via Palermo 10 / 20121 Milan, Italy
 www.pelota.it

Concept / Live performance / direction: Veronika Mayerböck / ALLES oder Licht
IT / Software / Electronic Development: Simon Laburda
Compositional System LIGHTSCORES_DJ: Jorge Sanchez Chiong, Veronika Mayerböck, Simon Laburda (with advising support of Tobias Leibetseder)
During Performance used Soundmaterial: Ken Hayakawa, Jorge Sanchez Chiong;  Design: taliaYstudio
 http://designpioneers.advantageaustria.org/blog/2014/02/03/lightscores_move-like-a-dj/
http://designpioneers.advantageaustria.org/blog/2014/02/03/en_lightscores_move-like-a-dj/
An interactive live performance composing music with light and movement
LIGHTSCORES is a light sensitive interactive wearable, translating light into sound. Nominated for the "AXA PPP Health Tech &You Award" and currently exhibited at the Design Museum London, Austrian studio ALLES oder Licht from Vienna is proud to launch its prototype as a "DJ Tool" at the Austrian Design Party 2015 (April 16, 7 – 9 pm) in Milan for the very first time.
Developed by ALLES oder Licht, LIGHTSCORES is combining entertainment and healthcare. The interactive combination of audio, vision and motor coordination also serves as an interactive learning tool for visually and multiply impaired children. Triggering movement enhancement, it helps to develop certain brain areas and train coordination especially for blind children. Launching it as an event application for the first time, the LIGHTSCORES team hopes it will make the party crowd jump as well…
This project is funded by AWS ImpulsXS.
*with kind support of Ken Hayakawa who provided some of his sound material for the live performance of LIGHTSCORES.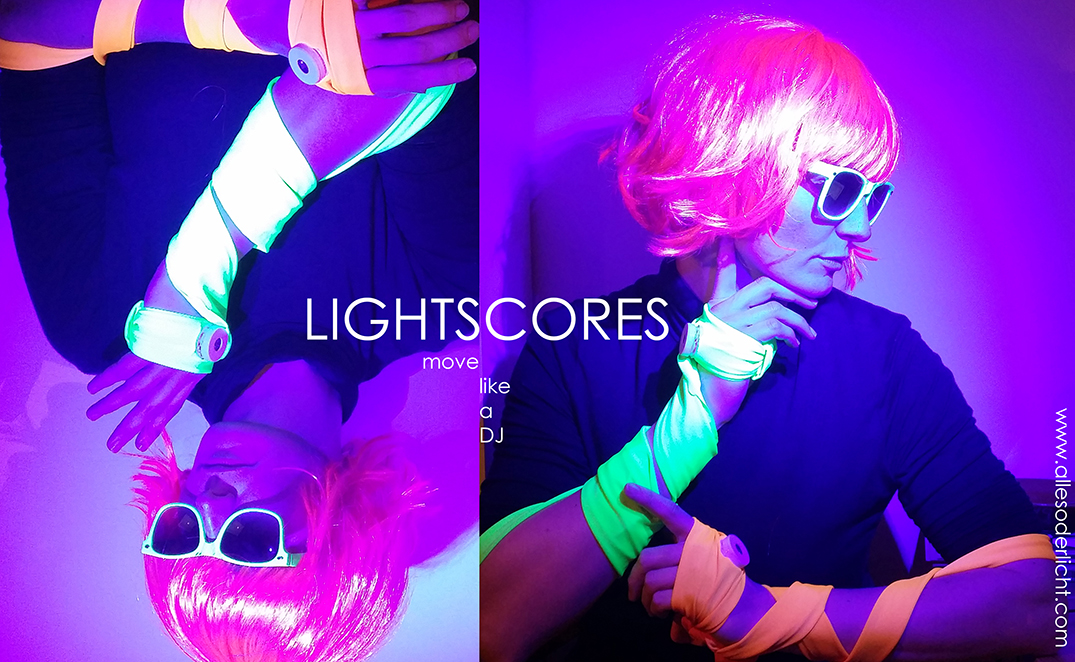 https://allesoderlicht.com/wp-content/uploads/2015/04/LIGHTSCORES_move-like-a-DJ.jpg
662
1075
admin
https://allesoderlicht.com/wp-content/uploads/2017/01/LOGO_alles-oder-licht_neu4.png
admin
2015-04-07 12:32:11
2015-04-15 14:54:19
LIGHTSCORES_move like a DJ @ DESIGN AUSTRIA / Int. Design Fair Milan